If you have any spare US dollar (USD) capital ready for real estate investment, you may wish to consider Nova Scotia real estate. The idea is to convert USD to Canadian Dollars (CAD) and invest in Canadian residential real estate, initially in Halifax, Nova Scotia. The main investment drivers are the local property market (relative cheap price per sq ft for residential real estate compared to other North American cities), cash flow (can achieve positive rental yield on a fully managed property), market timing (favorable USD/CAD exchange rate) and potential price appreciation (linked to growth from Halifax downtown development projects). Essentially in Oct 2015 relatively cheap property in a large metropolitan area, that is about to get significant future investment, can be bought for approximately 75 cents on the USD dollar (at current exchange rates). In summary, the investment strategy is to take advantage of real estate's well documented tax and cash flow benefits and use the exchange rate to buy more house for the money.

The downsides are that you ideally need to create your own American and Canadian companies to do real estate operations as a business, to avoid liability legal issues and to protect your other USD based assets. Therefore the initial company setup will require legal advice specific to your situation, and incur legal fees and setups costs. Plus you will require the extra cost of having the property remotely managed by a local property manager.
Historical Halifax House Price Trends
Halifax house prices in local currency (CAD) have increased approximately 40% in the last 10 years. However they have approximately flat for the last 3 years, and have currently declined approximately 6% from a peak in Sept 2013. Halifax house prices priced in USD have been actually quite volatile in the last 10 years partially due to local house price appreciation, but mostly to do with material exchange rate swings. The following chart shows Halifax house prices in CAD and USD for the last 25 years (since 1990). Chart has only been updated to March 2015 – FX rate is even more favourable in Oct 2015.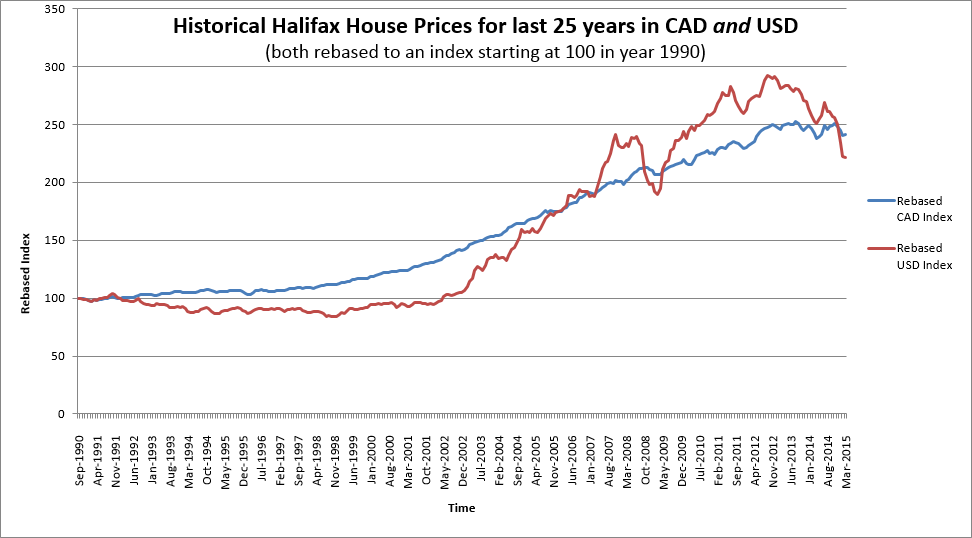 To provide some historical pricing context:
- Halifax house prices in USD peaked in approximately Oct 2012 where index was 291. In March 2015 the index was 221, which is a 24% decline in approximately last 3.5 years.
- Halifax housing in USD is therefore only needs to decline 14% to reach its credit crisis low in March 2009 (when the index was 189). The credit crisis low was almost exclusively a currency exchange rate event, as the local CAD house prices barely moved and then continued higher. This points to the relative stability of the Halifax market (for example, not a major financial center).
- Is it also the cheapest time to buy Halifax houses with USD since Aug 2009 (or about 5.5 years ago)
In summary, in the last decade (Mar 2005 to Mar 2015) Halifax houses priced have appreciated 41% in USD and 39% in CAD (relative similar). However local house prices in CAD have been less volatile with a relatively linear chart, whereas in USD (with exchange rate risk) they have seen significantly more volatile swings. Historically the opportunity in the last decade has come when the CAD is trading at a significant discount to the USD. That is times such as now (Q1 2015), when the red line is significantly under the blue line.
- We also have a hedging strategy using CAD /6C futures options to somewhat mitigate the FX rate risk.
Comparing Halifax Market to other Canadian markets
Halifax market is significantly cheaper on many metrics when comparing with other larger Canadian metropolitan areas such as Toronto and Vancouver (click for predefined property investment search links to numbeo.com). For example, Halifax disposal income is only 20% less than Toronto, but the Halifax house prices can be up to 40% lower.
Halifax Rental Competition
Current rentals on the local advertising webpages Kijiji show approx. 180 similar rentals in Oct 2015.
Rental Pricing and Breakeven Analysis
Rental about $1100 to $1300 a month for a 3 bedroom single family house. Estimates for standard operations on 1 all cash property, requires monthly rent of $700 to break even, assuming very conservative assumptions (likely lower).
Target Tenant
Professional couple in 20's or 30's (possibly with young family) with good jobs earning above median Halifax income of $80K. No pets and non-smoking to reduce wear and tear on properties.
Potential Capital appreciation
There is also potential capital appreciation from projected development in downtown Halifax, Nova Scotia in the next 5 years (not required for business plan to succeed, but would be value add). The downtown Nova Centre development and the shipbuilding $25 billion investment are confirmed. House buying activity (not prices) increased in 2012 on this shipbuilding news, with the message at the time being to buy now to avoid missing out on future price appreciation. However the last 3 years have been flat to down for house prices. In 2015 it is very much a buyers market due to a lot of inventory, and this will likely continue into 2016.
This is a summary of more extensive research report we have completed, so please get in touch if you would like more information.